BioQuant Virtual Machine
Submitted by Hang Chang on Thu, 04/28/2016 - 20:52
Background:
BioQuant is a software, initially developed by the Imaing and Informatics Lab at Lawrence Berkeley National Laboratory, for large-scale high performance quantification of macromolecules involved in cell-cell adhesion, genomic instability, and DNA repair proteins, etc., which has been widely used by members at the Life Sciences Division of Lawrence Berkeley National Laboratory for scientific discoveries.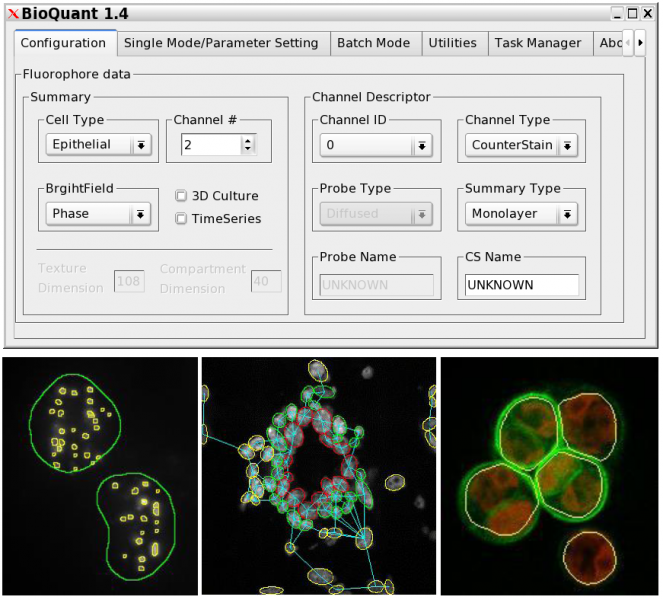 Description:
This project is developed in C/C++ and Qt, and released as a pre-configured virtual machine image for quick deployment by the community. And the scientific publications supported by BioQuant are listed as follows, 
Nath, S., Spencer, V.A., Han, J., Chang, H., Zhang, K., Fontenay, G.V., Anderson, C., Hyman, J.M., Nilsen-Hamilton, M., Chang, Y.T., Parvin, B.: Identification of fluorescent compounds with non-specific binding property via high throughput live cell microscopy. PLoS ONE 7(1) (01 2012) e28802.
Groesser, T., Chang, H., Fontenay, G., Chen, J., Costes, S.V., Helen Barcellos-Hoff, M., Parvin, B., Rydberg, B.: Persistence of gamma-h2ax and 53bp1 foci in proliferating and non-proliferating human mammary epithelial cells after exposure to gamma-rays or iron ions. Int J Radiat Biol 87(7)(2011) 696–710.
Rejniak, K.A., Wang, S.E., Bryce, N.S., Chang, H., Parvin, B., Jourquin, J., Estrada, L., Gray, J.W., Arteaga, C.L., Weaver, A.M., Quaranta, V., Anderson, A.R.A.: Linking changes in epithelial morphogenesis to cancer mutations using computational modeling. PLoS Computational Biology 6(8) (2010).
Installation:
Download the BioQuant virtual machine image (*.ova);
Open the .ova file in VMware player, and then power on the VM on when the import is complete.
Please refer to the documentation page for more details in installation and usage.
Downloads